The Lazy Jane
Model used in the ABC television series Image above right is a replica scale model of the P.V. Amphibious as "The Lazy Jane" paddle steamer used in the 1990 television series "The River Kings". Filmed in Morgan and surrounding districts many of the Morgan Historic walk buildings were used as film locations along with Nor' West Bend Station and Nikalapco Station. Quite a number of local residents and children were used as extras in the series. The Amphibious was built in Melbourne in 1875 measuring around 18 meters by 5 meters, and powered by twin steam engines driving a propeller. She was later rigged as an engineless sailing ketch, and two kerosene engines were installed to become an auxiliary sailing ketch. Finally she sank in the Port River. Having been salvaged, refloated and repaired, she was used as a steam tender in Peter Weir's 1981 film Gallipoli, landing the troupes on the beach. Converted again she became the "Lazy Jane".
Slightly exaggerated advertisement for the Lazy Jane to lure customers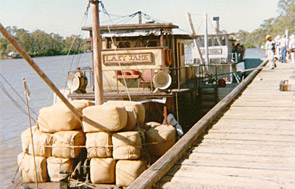 The Lazy Jane and Lady Mable moored at the Morgan Wharf during filming.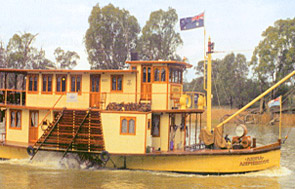 Akuna Amphibious today. The Amphibious is now owned by Peter Akuna Station on the Murray river north of who altered its name to Akuna Amphibious embarked on a major rebuilding programme. The hull has been re-planked along with The original deckhouse was replaced by larger structure, containing three luxury modern kitchen / lounge / dining area.
The P.S. Industry as "Lady Mabel" Built 1911 in Goolwa has an unusual jarrah hull from W. Aust. And her decks are of New Zealand kauri. She was built for snagging, lock maintenance and dredging. She measures 34 m long by 6 m beam. The Industry is available for cruises and tours from the Renmark visitor centre. So you can enjoy a very original steam experience with her volunteers.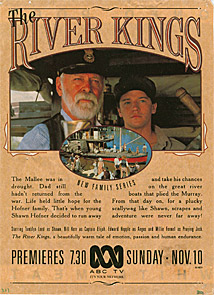 The River Kings: Set in the 1920's against a stunning that sweeps through towering cliffs red gums and willows. Life on the struggle, an absent father and imminent, sixteen year old Shawn home to support his family. Shawn steamboat, a childhood dream, unglamorous reality of a nomadic rude awakening to this naïve country must summon all his strength and each day. Young Shawn will witness disaster, suffer betrayal and despair, and romance during his travels. this boy into a man. A gritty story human characters and unique appeal universally to all ages.